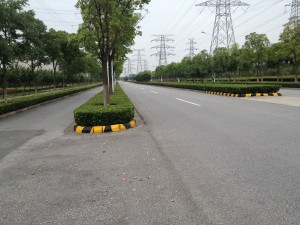 Yesterday I saw blue sky for the first time in Suzhou. I have been here for almost a month, but the sky has been elusive so far, always hiding behind a curtain of grey haze that continuously blankets the sky. The haze sometime thickens into clouds that turn to rain. Sometimes the rain is heavy. The two constants, though, are temperature and humidity. These never vary, regardless of the sky. I am told that seasons do change here, but the meteorological consistency over the last month makes me wonder. I will have to wait a while to find out.
So how does a wandering, Canadian moose find his way to southeastern China? Well, that is a long story, too long for this space. What I am doing here is teaching accounting at Xi'an Jiaotong-Liverpool University, which rather strangely, is not located in either Xi'an or Liverpool. Rather, it is located in the Suzhou Higher Education Town, which is one section of the larger Suzhou Industrial Park (SIP).
"Industrial park" is really not adequate to describe this place. SIP is really a city, a modern city, built next door to an ancient and very beautiful city. Suzhou, the cradle of the Wu culture, is veined with canals that are frequently crossed by solid, but thoughtfully carved, stone bridges. The city is also home to a number of stunning and carefully designed gardens. In these gardens, there is a sense of calm and order that seems to permeate the whole city. Yes, Suzhou is a busy place, but the intensity that characterizes so many Chinese cities seems a little softened here. Even SIP, the new city where tremendous amounts of economic activity occur, has a placid feel at times. The Singapore government was heavily involved in the development of SIP, and the influence of that city can be seen in SIP's infrastructure. The streets here are wide, well designed, the traffic flows, and every road is lined with meticulously trimmed hedges. In fact, not only are the hedges perfectly trimmed, but you will also have a hard time finding weeds, fallen leaves, or any other debris on the sidewalks. This is because an army of workers (mostly women) descends on the city every morning to sweep the sidewalks, pull the weeds, pick up garbage and trim the greenery. They don't use any powered implements. All this work is done by hand, by these impressively efficient squadrons of neon-clad women.
SIP does, at times, have a bit of haunting atmosphere, as parts of it have been overbuilt (or perhaps "pre-built" might be better.) The infrastructure was clearly designed for the future, but the present hasn't quite caught up yet. I find it strange to ride a bicycle down a wide, six-lane road in China and not see a single car, or even another human being for that matter. The park and playground behind my apartment are rarely used, although the basketball and badminton courts are often occupied. Another university building across the road from my apartment seems completely empty, with endless rows of vacant shelves visible through the side windows of what I presume will one day be a library. There must be tremendous confidence here to commit to such large infrastructure expenditures before the tenants arrive, but the confidence seems justified. SIP is a commercial powerhouse, with a level of economic activity that would make some countries envious.
I will to attempt to make semi-regular contributions to this blog while I am in Suzhou. I have no intention to discuss politics, history, culture or any other overly academic topics. My only goal is to record my observations and perceptions, as filtered through the slightly tilted lens of the Moose Wanderer.